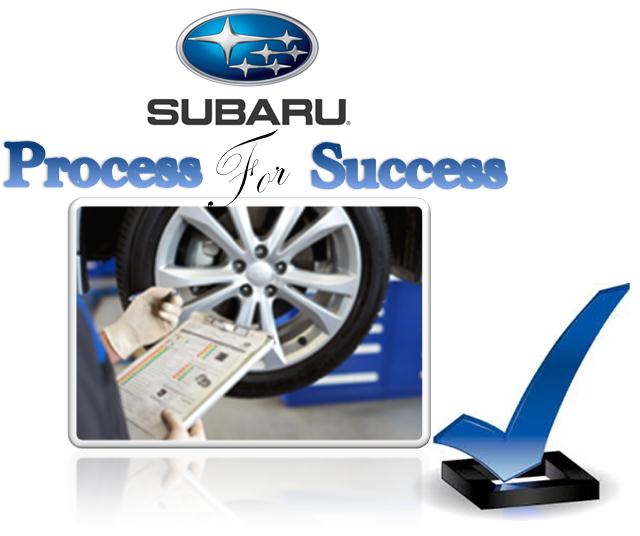 Byers Dublin Subaru... practices a process that we believe facilitates our goals of providing excellent running
Subaru
vehicles,
More-than-Expected Service
and
Happy Customers
..
Below you will find a description of that process. We value your response and feedback.
Please feel free to
contact us
at any time.
Mark Haag - Byers Dublin Subaru Service Manager
TECHNICIAN RESPONSIBILITY
Read and Understand Customer Concern or Comments
Cover Seats With Plastic, Put Down Floormats

Pull File For History If Necessary
Test Drive

Diagnose Concern
Perform and Fill Out Inspection Form
Report Finding to Service Consultant

Perform Repair Based Upon Customer Agreement
Test Drive Vehicle To Verify Repairs
Turn Keys and Repair Order Back To The Service Consultant

Service Consultant Responsibility 
Welcome Customer To The Facility
Make Sure Best Contact Information Is On File

Listen To Customer Concern And Document
Get Authorization For Repairs In Timely Manner
Keep Technician Informed At All Times
Get All Work Authorized / Never Go Over Estimate On Final Invoice
Call Customer When Work Is Complete If Requested
Pick Up Delivery
Make Sure Keys Are Back In Office
Make Sure Paperwork Is In Office
Perform Description Of Services To Customer - *In Person or On Phone
Make Sure Location Of Vehicle Is Clear For Customer
Make Sure Customer Is Followed Up With To Confirm                     "Truly Extraordinary"  Service Has Been Accomplished
______________________________________________________________
BYERS DUBLIN SUBARU SERVICE MENU

For more information about recommended service intervals and mileage service packages as well as specific maintenance or repair options for your vehicle, see our SUBARU SERVICE MENU.

Byers Dublin Subaru is conveniently located at 2455 Billingsley Rd. in Columbus,Ohio.  Our service center maintains and repairs vehicles from all over the region, and we have many satisfied customers - not only the Columbus area, but also from Newark, Mansfield, Delaware, Plain City and more.