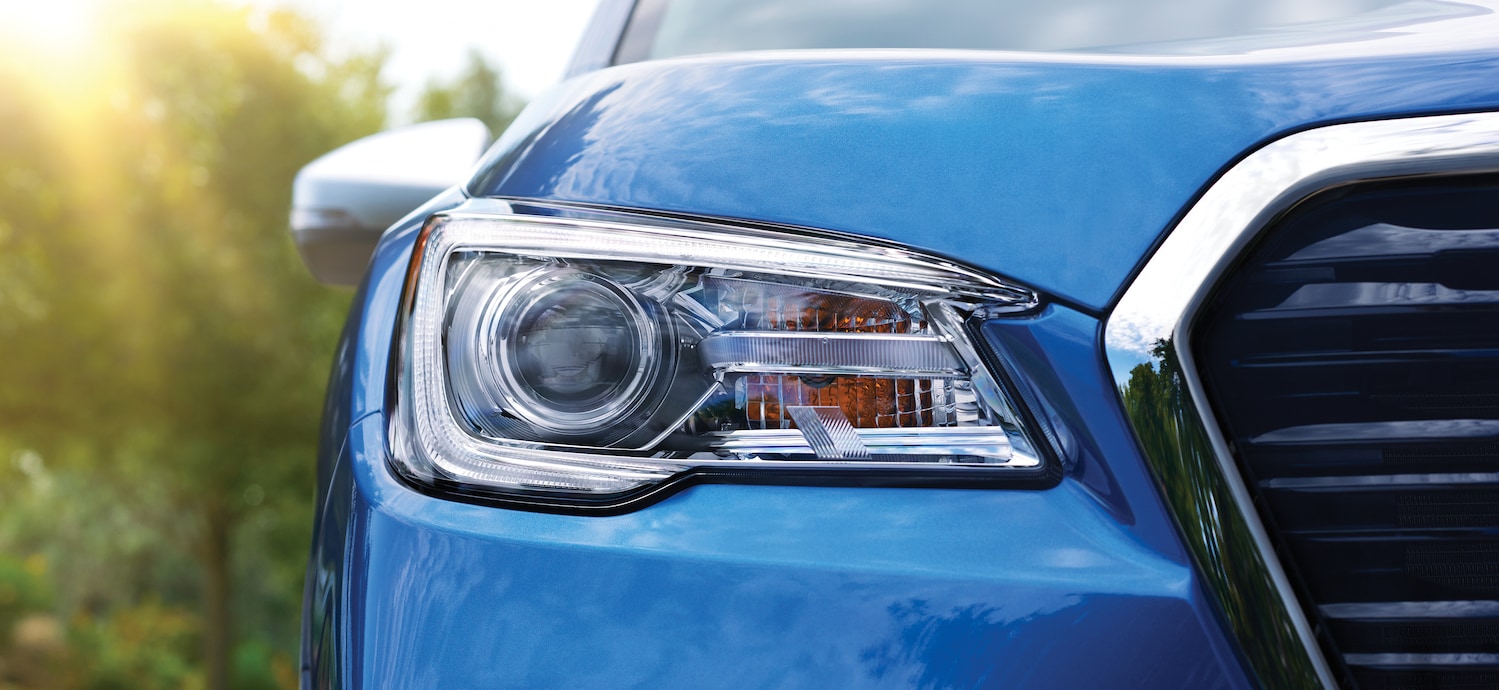 Subaru SUV Comparison: Ascent, Forester & Outback
Every Subaru SUV has a lot for Hillard drivers to love that they won't find on other SUVs. But which of the three well-equipped Subaru SUVs is just right for you? Are you in need of a full-sized family SUV like the Ascent? Or is the Forester or Outback which are both ready for weekend adventures along the road less traveled as well as running errands around town. Here at Byers Subaru, we want to make sure that our customers easily find the perfect Subaru SUV for all of their needs and to help you get to the test drive even quicker we have done the hard work of comparing the three SUVs in all the ways that matter most.
| | | |
| --- | --- | --- |
| 2020 Subaru Outback | 2020 Subaru Forester | 2020 Subaru Ascent |
Interior Dimensions:
The biggest and most notable difference between all three Subaru SUVs is their size. The Ascent is the largest of the three and is the best option for growing families around Columbus who are always on the move and need extra seats and extra cargo space. Both the Forester and Outback offer impressive cargo space to adapt to all of your adventure needs as well as very spacious and comfortable seating for five. The Forester has slightly more headroom than the Outback, since it is slightly taller. While the Outback longer and wider than the Forester.
Ascent:

Total Passenger Space - 153.5 cubic feet
Seating Capacity - 7 or 8
Headroom Front/Rear/3rd - 41.3/40/36.3 inches
Legroom Front/Rear/3rd - 42.2/38.6/31.7 inches
Cargo Room 1st/2nd - 20.8/47.5 cubic feet
Maximum Cargo Room - 86.5 cubic feet

Outback:

Total Passenger Space - 109 cubic feet
Seating Capacity - 5
Headroom Front/Rear - 40.1/39.1 inches
Legroom Front/Rear - 42.8/39.5 inches
Cargo Room - 32.5 cubic feet
Maximum Cargo Room - 75.7 cubic feet

Forester:

Total Passenger Space - 111.9 cubic feet
Seating Capacity - 5
Headroom Front/Rear - 41.2/39.6 inches
Legroom Front/Rear - 43.4/39.4 inches
Cargo Room - 35.4 cubic feet
Maximum Cargo Room - 76.1 cubic feet
Powertrain:
The Ascent, Outback, and Forester all have a BOXER engine under the hood and come standard with Subaru's legendary symmetrical all-wheel drive for a commanding grip on the road no matter where it may go. Or when the weather provides less than ideal conditions around Dublin, OH. However, there are a few differences in engine options, towing capabilities, and additional off-road performance features.
2020 Subaru Outback Onyx XT Edition
| | | |
| --- | --- | --- |
| Subaru Outback Interior | Subaru Forester Interior | Subaru Ascent Interior |
Subaru Ascent Cargo Storage Interior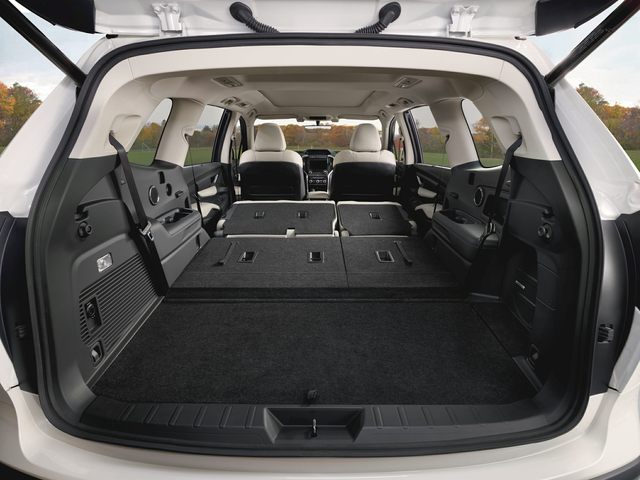 Ascent: Not only is the Ascent the largest Subaru SUV, but it is also the most powerful with a 2.4L turbocharged BOXER that generates 260 horsepower and is capable of towing up to 5,000 lbs. The 2.4L turbo BOXER is also more fuel-efficient than other 3-row SUVs with 27 highway mpg.
Outback: The 2020 Outback arrives with two new BOXER engines and a special adventure model; the Outback Onyx. Under the hood of the Onyx and the two other XT models is a 2.4L turbo BOXER engine that generates 260 horsepower and gives the Outback the ability to tow up to 3,500 lbs. The Onyx also features a new dual-function X-Mode with deep snow, dirt, and mud driving modes for enhanced off-road performance. The other BOXER engine is a revamped 2.5L four-cylinder BOXER that now generates 182 horsepower and comes standard with Auto Stop-Start Technology.
Forester: Under the hood of the Forester is the same 2.5Lfour-cylinder BOXER engine as the Outback. The Forester also gets an impressive 33 highway mpg. There are two differences in performance between the Forester and Outback. The Forester is only capable of towing up to 1,500 lbs. and X-Mode and Hill Descent Control is not included on the base model.
Test Drive the Outback, Forester or Ascent at Byers Subaru Dublin
Each of these Subaru crossover SUV models share similar characteristics and stand on their own with unique dimensions and storage space. By knowing your passenger count and space preference, the only thing left for you to do is plan a time to visit our Columbus Subaru dealership to take each model out to get the full effect before making your final decision. We believe you'll find what you need in either our 2020 Ascent, Outback or Forester crossover when you shop Byers Subaru Dublin.