Subaru's All-Wheel Drive Compact Crossover, the 2017 Forester, Is Available Now at Byers Subaru Dublin in Columbus, OH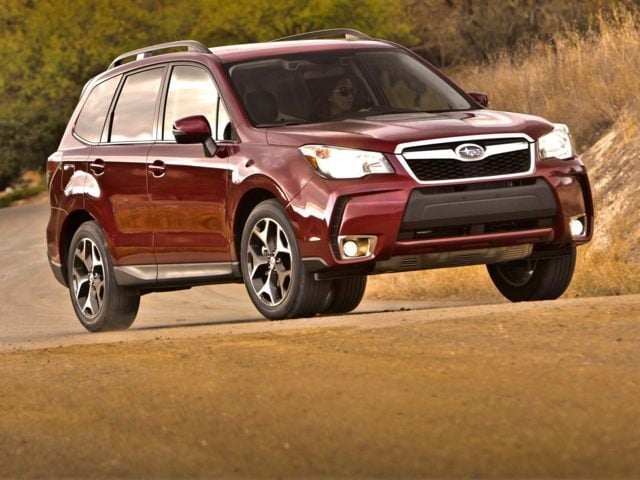 For years now, the Subaru Forester has been the quiet middle child in the automaker's lineup of very capable crossovers, a little geeky in its shape and style and certainly less flashy than the larger Outback and the subcompact Crosstrek, albeit easily able to get solid grades regardless of the driving surface. But the 2017 Subaru Forester has received a boost - specifically, a turbo-boost - along with new exterior styling and a much more polished interior that's loaded with features. And unlike other compact crossovers in its class - the Honda CR-V, Ford Escape, Nissan Rogue and Kia Sportage, to name a few - the Subaru Forester is the only one to feature standard all-wheel drive.
The Forester's size, interior flexibility and all-weather expertise make it an ideal choice for couples and young families (and their pets!) who spend as much time navigating backcountry roads as they do city and suburban streets.
The 2017 Forester has two engine choices. The base is a 2.5-liter boxer four-cylinder that makes 170 horsepower and 174 pound-feet of torque. For a lot more zip, there's now a 2.0-liter turbocharged four-cylinder boxer engine that delivers 250 horsepower. Fuel economy for the turbo is EPA-rated at 23 mpg city and 27 mpg highway.
The Forester has three key advantages over other compact crossovers. The first is the afore-mentioned symmetrical all-wheel drive. Subaru builds all-wheel drive directly into the drivetrain, which ensures constant power to all four wheels and enhances traction and stability on wet roads, snow and ice or even on loose dirt and mud. Then there's the Forester's 8.7-inches of ground clearance, Jeep-like room for crawling over small obstacles and through the deep stuff. Finally, the 2017 Forester is also equipped with Subaru's X-Mode, a terrain management system that when engaged, simultaneously controls engine power, throttle response, braking, hill-descent control, traction control and all-wheel drive, enabling the driver to focus solely on steering.
Inside, the Forester offers plenty of space for five passengers, and its extra-high ceiling makes the rear cargo area ideal for pets to stand and look around. The upgraded Subaru STARLINK multimedia infotainment system has a crisp, full-color 7.0 touchscreen with Bluetooth connectivity. Then there's EyeSight® Subaru's top-rated suite of driver assist features. When equipped with EyeSight®, the Forester receives a five-star overall rating from the National Highway Traffic Safety Administration (NHTSA) is a Top Safety Pick+ for the Insurance Institute of Highway Safety (IIHS).
Byers Subaru Dublin is the leading Subaru dealership in the greater Columbus, OH area, and we have a great selection of 2017 Forester models in stock, as well the rest of Subaru's all-wheel drive lineup, including the Outback, Crosstrek, Impreza, Legacy and WRX. Our showroom is located at 2455 Billingsley Road in Columbus, and we're also convenient to Westerville, Hilliard and Dublin, as well as Upper Arlington, Powell and Delaware. Stop in today to talk with one of our knowledgeable sales professionals, or give us a call at (888) 485-7379 to set up time for test drive.